Banned comic play about Bible expected to sell out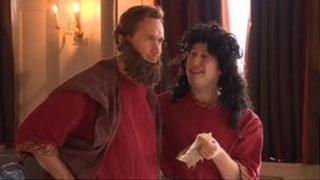 The comic play about the Bible that was cancelled, then reinstated, by a County Antrim council, is expected to sell out.
The Bible: The Complete Word of God (Abridged) had sold only 150 of a possible 800 seats before the controversy erupted last week.
Only six tickets were left unsold at 21:30 GMT on Tuesday.
The play's two-night run at Newtownabbey Borough Council's Theatre at the Mill begins on Wednesday.
The council box office extended its opening hours on Tuesday, and its website also crashed because of a surge in demand.
The play was originally cancelled by the council's artistic board after complaints from some councillors that it was blasphemous.
However, after widespread condemnation of the move, the artistic board changed its mind on Monday night, and the council ratified the decision to let the play go ahead.
The Reduced Shakespeare Company was already rehearsing the play at the Theatre at the Mill before the council performed its U-turn.