Philip Strickland murder: Accused 'had no interest in guns'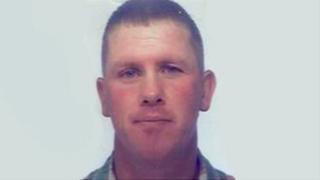 A farmer accused of killing a man with a shotgun told police he did not have a firearms licence as he had "no interest in guns", a jury has been told.
Jimmy Seales, 56, of Ballykeel Road, Hillsborough, County Down, is accused of murdering Philip Strickland, 37, on Ballydrain Road, Comber.
Mr Strickland was shot in the leg in a yard and driven a short distance before being shot in the face.
Mr Seales is one of four men accused of murder but denies being at the scene.
Mr Seales, who was severely beaten in an assault five months before the murder, claimed that on the evening of the killing he watched Emmerdale and went to bed early.
The jury at Belfast Crown Court heard interviews that police conducted with Mr Seales in the days following the murder.
He was arrested and released but was rearrested after a witness placed him at the scene.
When asked by police if he had a firearms licence, Mr Seales said he did not.
When asked if he had ever fired a gun, he replied: "I have done it once, just up in the air. I've never shot anything - a rabbit or bird or anything."
He also told police he had "no interest in guns", and said "I have never killed a thing in my life, honestly".
The jury heard that when Mr Seales was rearrested and questioned about the murder of Philip Strickland, he denied involvement. When asked if he murdered Mr Strickland, he replied "no."
The trial has already heard evidence from two witnesses who said Mr Seales was at the murder scene, armed with a shotgun.
One of those witnesses is Mr Seales' son Ian, who, along with his brother Jason, has already pleaded guilty to murder.
A fourth man, 26-year old Stephen McCaughey of Shackelton Walk, Newtownards, County Down, denies the charge and is standing trial alongside Mr Seales.
The trial is due to resume on Monday.