Richard Haass confident NI parties will eventually reach agreement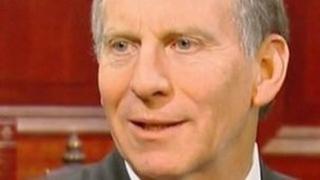 NI's five executive parties will agree "sooner or later" on compromises over flags, parading and the past, former US diplomat Richard Haass has said.
Talks chaired by Dr Haass and Prof Meghan O'Sullivan broke up without a deal on New Year's Eve.
Consensus has yet to be reached on his final proposals, but Dr Haass said he believed in the longer term the parties would agree a deal based on his plans.
"These ideas provide a new baseline," he told Foreign Affairs.
"Whether it's next week, next month or next year, sooner or later the five parties are going to have to come back to those three issues.
"The range of compromise is not going to be fundamentally different from what was in the negotiations that just took place.
"Even if we didn't quote-unquote succeed now, something like this will have to take effect if Northern Ireland is really going to move forward."