Garth Brooks: 'Ireland my favourite place to sing'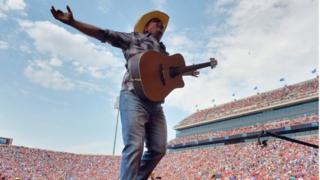 American country star Garth Brooks has confessed that the news of how his Irish concerts sold out in two hours has left him "flattered, humbled and scared to death."
The 52-year-old star told BBC Radio Ulster's Talkback that Ireland was the best place in the world for him.
It has been 17 years since his last concert in Dublin, but he remembers it with pride.
People ask and he tells them Ireland is his favourite place to sing, he said.
"No matter where I am in the world, when I am asked what place I like to sing, I say Ireland. It is just phenomenal."
Despite his huge success, Brooks retired while at the peak of his career in 2001.
"I have been raising my babies," he told Talkback's Wendy Austin.
"Thanks to you guys and thanks to God, financially, I was allowed the luxury of getting to stop what makes my living and raise my babies."
But soon his youngest child will be flying the nest and he plans to spend the next few months mapping out the Irish stage of Croke Park at on his home farm in America, so that he can prepare properly for his Dublin concerts.
"This place is the biggest place I have ever sung," he said.
"So how do you get close to these people? There are so many of them and we will be working to figure that out."
Brooks said his job was to give his fans "something better than before": "Our job is to bring a show that is better than 1997 and, hopefully, we will have more fun."
To that end, he will be working his mock-up stage at home and plans to get into training for his future concerts.
But his lips are sealed about how he intends to arrive on stage ... his entrance on a zip wire 17 years ago, was the talk of the town.
"I cannot tell you how excited I am. You start the show on empty and you fill up as you go. What those people bring you, you couldn't get anywhere else. It is the greatest feeling, next to being handed your own child."
Last week, tickets for three Garth Brooks concerts in Ireland sold out within two hours.
Tickets went on sale at 09:00 GMT on Thursday 30 January for the star's gigs in Croke Park on Friday 25 and Saturday 26 July.
A short time later, a third date was announced for Sunday 27 July, which also sold out.
And now a fourth concert has been added to his Irish schedule.
The concerts are taking place ahead of Brooks' world tour. He last played at Croke Park in 1997.
More than 200,000 tickets, costing 65 euros (£54) each, were up for grabs between the three Irish shows.
Die-hard fans camped outside music shops across Ireland for days, braving the torrential downpours and biting winds.
Garth Brooks is one of America's most iconic country stars with a career that has seen him become one of the best-selling artists of all time.
He has sold more than 125m albums with hits such as The Thunder Rolls, Friends in Low Places and Unanswered Prayers.
He then announced in 2009 that he would come of out of retirement and is now embarking on a world tour.
You can hear the interview with Garth Brooks at 12:00 GMT on BBC Radio Ulster's Talkback and on BBC iPlayer