Matthew Tyrie sentenced to six-year term for £1m cannabis haul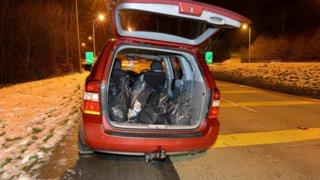 A man caught with £1m worth of cannabis has been given a six-year sentence.
Matthew Tyrie, of Knockleigh Walk, Greenisland, County Antrim, will spend three years in jail and three on licence.
Tyrie, 50, was caught with 210kg (462lb) of cannabis resin when police stopped a car outside Hillsborough, County Down, in January last year.
The seizure was the largest in Northern Ireland last year of any controlled drug, both in weight and in value.
It was the biggest seizure of cannabis resin for five years in Northern Ireland.
A Serious Crime Prevention Order was also imposed on Tyrie for five years following his release from prison.
Police said they believed Tyrie was an active member of an organised crime group.
Det Chief Supt Roy McComb, head of the PSNI organised crime branch, said: "We are delighted to have taken £1m worth of drugs out of circulation.
"We ask for continued support and information from the public so that we can make the world a smaller place for drug dealers."
The judge also ordered that the Kia car used by Tyrie to move the drugs should be sold and the proceeds donated to charity.