Large solar farm gets green light in County Down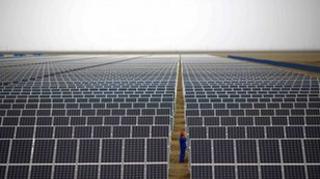 Northern Ireland's first large-scale solar farm has been given planning permission.
The electricity generating facility in County Down is being developed by BNRG Northern Power in a £6m investment.
The 27-acre solar farm at Tullynaskeagh Road, Downpatrick, will be connected to the nearby NIE sub-station and national grid.
The company said it would be capable of generating enough power for 1,500 homes during its 30-year proposed lifespan.
Sean McMullan of BNRG said: "There is currently only around five megawatts solar energy produced in Northern Ireland, from mainly small-scale roof-mounted panels and none from large-scale ground-mounted solar farms.
"By comparison, England has approaching 2000 megawatts from roof-mounted panels and 1000 megawatts from ground mounted.
"We believe there is considerable potential for large-scale solar generation here, particularly as a genuine alternative to other forms of renewable energy generation such as wind."
It will take four months to install the 20,300 ground-mounted panels and equipment.
The company said the panels above ground would be about the height of a ceiling.