Philip Strickland murder: Jimmy Seales 'had no gripe'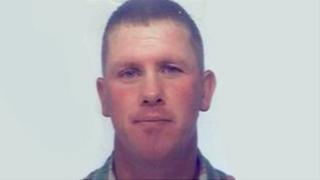 A farmer accused of murdering a County Down man had "no gripe" with the victim, a court has heard.
Philip Strickland, 37, was shot in the leg in a yard and driven a short distance before being shot in the face in Comber, County Down in January 2012.
Jimmy Seales, 56, of Ballykeel Road in Hillsborough, denies the charge.
Two of Mr Seales' sons - Ian and Jason Weir, of Derryboye Road and Raffery Road, near Killinchy, County Down - have already pleaded guilty to murder.
Earlier in the trial, Ian Weir said his father had been at the scene of the murder, armed with a shotgun.
'Left for dead'
Mr Seales said at the time of the killing, he had been at home watching television.
He told Belfast Crown Court on Thursday that in September 2011, he had been beaten, urinated upon and left for dead in a cemetery in Ballygowan.
He said it happened because he had asked a local man to remove cannabis that he discovered was being grown in a shed on land he owned.
The farmer said he was contacted by one of the men who subsequently attacked him, after asking him to come to Ballygowan to look at some pigs.
Mr Seales said that when he arrived for the meeting, he was manhandled, stabbed in the mouth then pushed to the ground and beaten with iron bars and a piece of wood.
"They beat my arms and legs. I remember the bones coming through my arms," he said.
"I remember lying on the ground. I couldn't get up and my arms were like rubber. I couldn't move them or anything."
He sustained multiple injuries in the assault, including fractures to both arms, kidney failure and soft tissue injuries.
Defence lawyers argued that because of these arm injuries, Mr Seales would not have been able to fire a shotgun.
Facebook comments
Following the assault, graffiti appeared in Comber that said "Jimmy Seales, PSNI tout".
Mr Strickland was suspected of being behind the graffiti, as were comments posted on Facebook about the attack on Mr Seales.
Asked by his barrister if he was concerned by the graffiti, he said: "It wasn't true anyway so I wasn't worried about it."
When asked about the Facebook comments, Mr Seales said he only found out about them when told about it by his sons Ian and Jason.
He said that while he told them "not to bother about it, it was only a bit of nonsense", they were "upset about it".
His defence lawyer put it to him that it had been suggested Mr Strickland may have been one of the men who had beaten him. Mr Seales said if that was the case, he would have told the police.
The accused also denied a claim by a prosecution lawyer that he had exaggerated his injuries.
Mr Seales' co-accused, 26-year-old Stephen McCaughey of Shackleton Walk, Newtownards, also denies murder.
The trial continues.