Gerry Adams to address Sinn Féin ard fheis delegates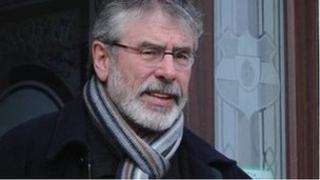 Sinn Féin President Gerry Adams is to address his party's annual conference in County Wexford later.
On the first evening of its ard fheis, Deputy First Minister Martin McGuinness said agreement should be reached now on flags, parades and the past.
Mr McGuinness said he believed "sensible people within unionism" needed to "break free of the naysayers, and lead from the front".
He said none of the issues faced by the peace process was "insurmountable".
"The time for agreement is not after the May election nor after the marching season - the time for agreement is now," he said.
Elsewhere in his speech on Friday night, he welcomed "the growing public expression among some anti peace-process republicans against armed actions".
The biggest cheer of the night was for party chairman Declan Kearney's call for an end to personal criticism of Mr Adams.
"Let me say this: the relentless campaign of vilification against the republican leadership, and specifically Gerry Adams in this state, is a disgrace, and should stop immediately," he said.