Philip Strickland murder: Accused describes firing of fatal shot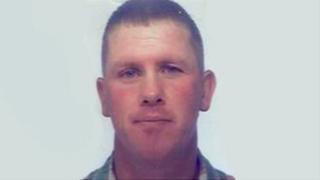 A man who was present at the murder of County Down farm labourer Philip Strickland has described how he witnessed the fatal shot being fired.
Stephen McCaughey, 26, from Shackleton Walk, Newtownards, is one of two men standing trial for the murder.
He also described how an attempt was made to burn the vehicle in which the victim was shot.
Mr McCaughey and Jimmy Seales, 56, from Ballykeel Road, Hillsborough, deny murder.
Mr Strickland was shot in the leg at a yard on Ballyglighorn Road outside Comber before being bundled into the boot of his own car and driven a short distance to the Ballydrain Road, where he was shot in the face.
Giving evidence at the trial, Mr McCaughey said he was asked to go to the yard by his friend Jason Weir.
The accused has consistently denied being involved in shooting or assaulting Mr Strickland. He told the jury that after being asked to come to the yard by Jason Weir, he did "what any friend would do".
He said that he was unaware that Jason's brother Ian and father Jimmy Seales would also be there.
Mr McCaughey said that when he first arrived at the yard he saw two men, Jason Weir and Philip Strickland, fighting.
He told the jury "it was more like wrestling...there was pushing and shoving and a bit of rolling about on the ground."
McCaughey said a Mercedes then arrived and Jimmy Seales got out of it with a shotgun in his hand.
He said Mr Strickland began walking towards Seales, adding: "That's when I heard the bang of the gun."
When asked what happened next, McCaughey said Mr Strickland "hit the ground."
He said that while on the ground, Mr Strickland was then assaulted by Jason and Ian Weir, before he was dragged over to his own car and bundled into the boot of the Citroen Saxo.
The Saxo was driven to the Ballydrain Road and, after Mr Strickland got out of the boot and was fighting with the driver, he was shot in the face at point blank range.
McCaughey told the court that at this stage, Ian Weir was in possession of the shotgun.
He told the court: "I seen he (Ian) fired a shot in the Saxo from the passenger side."
In the immediate aftermath of the fatal shot being fired, Mr McCaughey said Jason Weir tried to set the Saxo on fire, but all four men left the scene when they saw the lights from another vehicle coming down the road.
Mr McCaughey and Mr Seales deny murder and possession of a firearm with intent to endanger life. Jason and Ian Weir have already pleaded guilty to murder.