Catherine Seeley redeployed to another school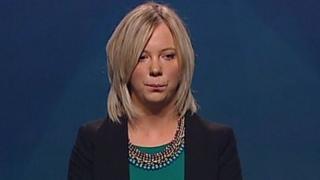 A teacher who quit her job at a north Belfast school after being targeted by online sectarian abuse has found a job in another education board area.
Catherine Seeley was subjected to the abuse after she was co-opted as a Sinn Féin councillor in Craigavon, County Armagh.
She announced last week that she would would not be returning to her post at the Boys' Model School.
No details were given of the whereabouts of the new school.
The northern secretary of the Irish National Teachers' Organisation (INTO), Gerry Murphy, welcomed the efforts of the Belfast Education and Library Board and Council for Catholic Maintained Schools (CCMS) to find a resolution.
"Catherine Seeley has now been placed in a school where she can feel safe from unwarranted abuse and where she can get on with the job to which she has dedicated herself, helping young people to achieve their full potential," he said.
"It is a sad reflection of our society that a young teacher can be hounded out of her job by a campaign of vile sectarian abuse.
"Sectarianism is a very destructive influence and can have no part to play in the workplace. INTO and the entire trade union movement will continue to work tirelessly to eradicate it."
Ms Seeley spoke publicly for the first time at Sinn Féin's annual conference in Wexford at the weekend.
She thanked pupils at the Boys' Model School in the loyalist Ballysillan area for their "full support".
She added that her recent experience had shown "that students can be much wiser, more mature, more responsible and more respectful than some who claim to speak on their behalf".
Ms Seeley's decision to leave her post was announced on Friday in a joint statement by the school's board of governors and the Belfast Education and Library Board.
The Protestant Coalition group had objected to her employment at the school.
It said her role at the school should be looked at because of her political views.