Carrier Bags Bill: TUV leader tables amendment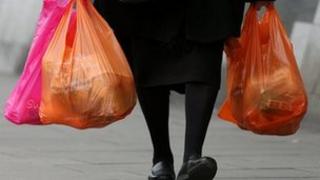 The Carrier Bags Bill, which could increase the cost of shopping bags, will not be debated at the assembly on Tuesday as scheduled.
The consideration stage has been postponed following the tabling of an amendment by the TUV leader Jim Allister.
He is seeking to exempt paper bags from the new charge.
Environment Minister Mark Durkan said he would bring the bill back as soon as he had consulted the executive.
Mr Durkan said his bill was designed to encourage re-use of carrier bags, so a new 5p levy would be applied to re-usable bags.
That would mean the 10p bags could rise to 15p while the price of the 5p bags remains unchanged.
He is concerned that Mr Allister's amendment, seeking to remove the existing charges for paper bags, is flawed.
Mr Durkan said these bags should retain the 5p levy due to the carbon emissions released during manufacturing.
Mr Allister is concerned the levy will endanger jobs as a company in his constituency distributes carrier bags.
Mr Allister attacked the Department of the Environment (DoE) proposals in the assembly last week.
The DoE's position has been that paper bags create significantly more carbon emissions in the manufacturing process than plastic ones.