NI welfare changes: Minister warns of £1bn fines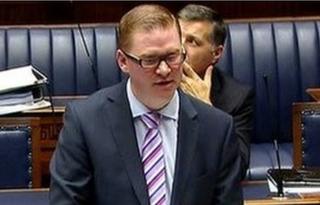 Failure to implement welfare changes could cost the Northern Ireland Executive £1bn in fines over five years, the finance minister has warned.
In a letter, obtained by the BBC, Simon Hamilton also said 1,500 jobs could be lost if the executive did not make the changes being introduced in Great Britain.
Mr Hamilton said £1m would be lost in Treasury fines in this financial year.
He said that over the five years, the figure would rise to more than £1bn.
In his letter, Mr Hamilton said he was alarmed about the lack of concern about the likely consequences for public expenditure.
Tug of war
He also said that if Northern Ireland attempted to go it alone on welfare, the jobs of almost 1,500 people employed by the Social Development department could be under threat.
Welfare reform has been a tug of war across the executive table, with the DUP taking the view that Northern Ireland had no option but to implement the changes, whilst Sinn Féin and the SDLP have been holding out for more concessions.
Mr Hamilton said that if Northern Ireland did not stay within the same system as Great Britain, the London Work and Pensions department would relocate the work carried out by 1,400 people at service centres in Belfast and Londonderry.
The minister said developing and running a separate system for assessing Disability Living Allowance claims and benefit payments in Northern Ireland would cost just under £300m, but if Northern Ireland wanted a completely separate benefit system, that figure would have to be multiplied by six, to as much as £1.8bn.