Royal Victoria Hospital: Not all A&E death families told of delay factor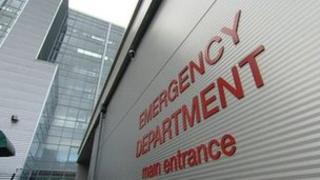 Not all families were told their relatives died partly because they were not treated quickly enough in the A&E department at NI's biggest hospital.
On Tuesday, a senior doctor confirmed delays were a factor in the deaths of as many as five patients at the Royal Victoria Hospital in Belfast last year.
The Belfast Health Trust said some families did not want more information.
"However for those that do, we are going back to ensure that they are fully informed," a spokeswoman said.
The details emerged on Tuesday when the trust's medical director, Dr Tony Stevens, told BBC Radio Ulster's Nolan Show a shortage of doctors, and patient waiting times, had been significant factors in the deaths.
"These were very sick patients and they were very complex cases, so those patients may have succumbed or died anyway, this is a contributory factor," he said.
Meanwhile, a former health trust manager said pressures on accident and emergency units in Northern Ireland have been exacerbated by the wider problem of hospital bed shortages.
Jim Stewart, who was sacked as chairman of the Northern Health Trust in December 2012 amid problems with its A&E provision, said his concerns had been ignored.
"The 12-hour waits - they're not a symptom of a shortage of doctors in A&E, they're not a symptom of an A&E problem, they're a symptom of a whole hospital problem," he said.
"What we have been doing over this last 10 years was reducing the number of beds throughout the hospitals."
He added: "You can't keep stripping beds out, year after year, when people have to be admitted and making them wait on trolleys.
"You have to staff your A&E department to meet the demands coming in the door."