Looking after Northern Ireland's health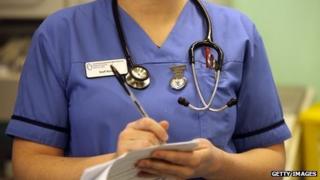 The health and welfare of Northern Ireland's population of 1.7m is the responsibility of the Department of Health, Social Services and Public Safety.
Health Minister Edwin Poots
The current health minister is the DUP's Edwin Poots.
Mr Poots was appointed minister in May 2011.
His department three main responsibilities:
Health and Social Care (HSC), which includes policy and legislation for hospitals, family practitioner services and community health and personal social services;
Public Health, which covers policy, legislation and administrative action to promote and protect the health and well-being of the population; and
Public Safety, which covers policy and legislation for fire and rescue services.
A cross-party health committee advises and assists the minister. It also carries out a scrutiny, policy development and consultation role.
Permanent Secretary Dr Andrew McCormick
The permanent secretary is the most senior civil servant in the department. Among other duties, he is responsible for the day-to-day running of the health service.
The current permanent secretary is Dr Andrew McCormick.
The holder of this post is also the department's accounting officer, meaning he is answerable to the Executive on matters of departmental spending.
Chief Medical Officer Dr Michael McBride
The chief medical officer, who at the moment is Dr Michael McBride, heads one of five professional groups within the department.
He provides professional medical and environmental health advice to ministers and departments, and helps inform policy decisions throughout the Department of Health.
He also advises on public health policy, including health promotion, disease prevention, emergency planning, health protection and environmental health.
Health and Social Care Board chief executive John Compton
The Health and Social Care Board works with the health and social care trusts that directly provide services to the population.
It manages annual funding from the Northern Ireland Executive, currently £4bn, and is responsible for ensuring that all services are safe and sustainable.
The current chief executive of the Health and Social Care Board is John Compton.
Belfast Health Trust: Colm Donaghy and Dr Tony Stevens
Northern Ireland has six health trusts charged with providing local health and care services.
One of the largest is the Belfast Health and Social Care Trust, which employs 20,000 people, administers the city's hospitals and has an annual budget of about £1bn.
It delivers health and social care to 340,000 people in Belfast and part of the Borough of Castlereagh.
It also provides specialist services to all of Northern Ireland.
Its hospitals treat approximately 210,000 inpatient and day patients a year, see 680,000 outpatients and more than 200,000 people at its A&E departments.
Colm Donaghy is currently chief executive of the trust. Dr Tony Stevens is medical director of the trust.
Each hospital in Northern Ireland is managed by an administrator in charge of personnel, finances and facility practices according to a distinct set of policies and procedures established by trustees.