Previous Northern Ireland hospital incidents to be reviewed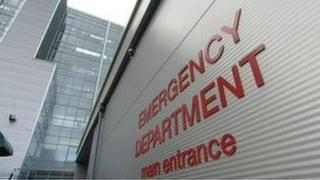 The health minister has said his department will review "serious adverse incidents" in Northern Ireland's hospitals from years before 2013.
It follows the news that five patients at the Royal Victoria Hospital's A&E may have died in 2013 partly because they were not treated quickly enough.
Edwin Poots said his review would go back "a number of years".
"That is the course of work that is currently happening," the health minister said.
"Trusts are to report those serious adverse incident reports to me (from) over the course of the last number of years."
Mr Poots briefed the Northern Ireland Executive about the matter on Thursday afternoon.
He also told ministerial colleagues about an inspection report of the Royal Victoria Hospital carried out by the regulatory body, the RQIA.
He said if extra financial resources were needed for the Royal "we will ensure that's made available and I have no doubt that my executive colleagues will back me to ensure that's available".
Asked if it was a resigning matter for him he replied: "I think in terms of what I do, we set policy and we set out policy very clearly for the professionals to carry out.
"If the trusts are not carrying that out, then it's a matter for us to ensure that they step up to the mark and that is something we will continue to do."
'Shouldn't have happened'
Three of the five bereaved families from last year were not fully informed of all the details of the deaths.
The chief executive of the Belfast Health Trust said they would check if this had happened in previous years.
"We're looking back now over the last two to three years to determine if there are other instances like this, where families were not engaged or informed," Colm Donaghy said.
"We're starting the investigations because we now realise that those families weren't informed when they should have been. It's not acceptable and it shouldn't have happened."
He added: "We are very keen that our clinicians and staff continue to identify these incidents to us so that we can learn from them, so that we can ensure that the learning that takes place makes improvement in our system."
Assembly being briefed
Earlier, Chief Medical Officer Dr Michael McBride apologised to the families of those who died.
Dr McBride told the health committee on Wednesday that three of the five "serious adverse incidents" at the Royal were still undergoing investigation, and one of those was subject to independent review.
Speaking on the BBC's Nolan Show on Thursday, Dr McBride said the families "should have been advised, should have been informed".
"Measuring how many people died is a very crude measure of the quality of care, and also of the experience of that care," he said.
"We need to listen to what patients are telling us about their experiences of care."
Dr McBride said Northern Ireland did not have more serious adverse incidents than elsewhere in the UK.
"I have no evidence to suggest that the number of serious adverse incidents or the ratio of people who come to harm in our A&E departments or any other part of our system is any different from other parts of the UK," he said.
Dr McBride said there was a shortage of medical staff across the UK with 50% of posts being vacant.
"We have to make it more attractive for people to come into emergency medicine and stay in emergency medicine," he said.