Giro d'Italia: Call to remove murals and flags from NI route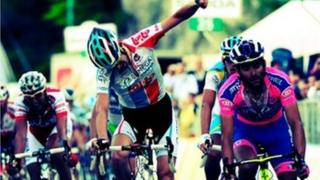 Alliance MLA Anna Lo has called for flags and paramilitary murals to be removed from the route of the Giro d'Italia cycle race later this year.
The appeal follows calls for parties to take down election posters while the race is in NI in May.
The race, which starts in Belfast for the first time, coincides with the European and local council election campaigns in May.
The stages in NI take place from Friday 9 May to Sunday 11 May.
Ms Lo said: "Alliance agrees that we should take down election posters on the route of the Giro d'Italia for the duration of the race if there is agreement from all political parties.
'Eyesores'
"However, if there is cross-party agreement on this, then we should also look to take down flags and paramilitary murals along the route.
"The very same arguments that politicians have been making about taking down election posters to showcase Northern Ireland and our beautiful scenery, also applies to flags and paramilitary murals."
She added: "Funding will be made available in towns along the route to improve the image of eyesores such as derelict buildings but I have a bigger problem with images of paramilitary gunmen.
"Do we really want these images to be visible on the route when millions of people will be watching the race on television?
"Why would we spend money on improving derelict buildings but not deal with threatening and intimidating paramilitary murals?"