Prison officer Daniel Barclay admits guilt in death of Colin Bell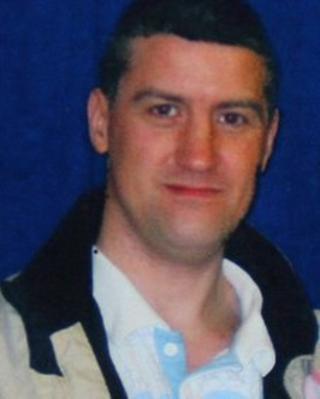 A prison officer has admitted he had not kept a proper watch on a suicidal prisoner who hanged himself.
The admission came as Daniel Barclay was due to go on trial in Craigavon, County Armagh, on a charge of misconduct in public office.
The case relates to Colin Bell who died in Maghaberry Prison in 2008.
He had been serving a life sentence for murder and was on suicide watch, which meant guards had to check him every 15 minutes.
Having taken his life at the fourth attempt, his body lay undiscovered in a cell for around 40 minutes.
It is understood that video footage examined as part of the investigation showed prison staff lying in bed watching television when they were supposed to be on duty.
Eight night custody officers who were recommended for dismissal have since been reinstated, but 34-year-old Barclay, whose address is subject to court imposed reporting restrictions given the threat on prison officers from dissident republicans, was the only officer to face charges.
At Craigavon Crown Court on Monday, Barclay's lawyer asked for the charge to be put to him again.
Barclay pleaded guilty to the offence, admitting that he had "wilfully neglected to perform his duty, without reasonable excuse or justification, in that he failed to carry out and record the appropriate observations in respect of a prisoner at risk, namely Colin Bell", on a date between 30 July and 2 August 2008.
A prosecution lawyer said that in due course, he would be inviting the judge to view a 90-minute DVD that shows events in Bell's cell "juxtaposed simultaneously" with the activities of Barclay in the monitoring pod.
He agreed with the judge that given the sensitive nature of the DVD, the CCTV footage would be viewed in private.
Barclay was released on bail pending the completion of probation pre-sentence reports, with sentence due to be passed on 21 March.