Santander to close five Northern Ireland agencies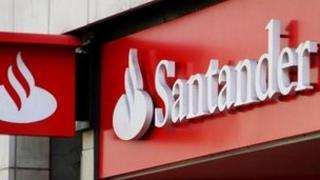 Santander bank is to close five agency outlets in Northern Ireland as part of a wider review of its UK operations.
The agencies, in Ballyclare, Dundonald, Holywood, Limavady and Kilkeel, provide limited banking services under Santander's branding.
Previously, the bank had looked to third-party agents to expand its UK network.
According to the bank, they typically are in established businesses, like insurance brokers or estate agents.
However, it now wants to concentrate operations on its own retail branches offering full banking.
In all, 139 agency operations are to be shut down.
"Santander will be working with each of the agency owners to ensure a smooth exit from the agreement," Santander said in a statement.