South Belfast: Masked men rob elderly sisters of £3,000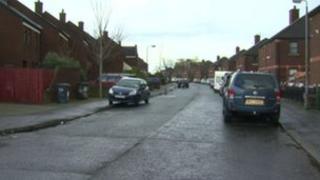 Two elderly sisters have been robbed by masked men in south Belfast.
May Kelly was visiting her sister Eileen at her house on Vernon Street when the attack happened at around 21:00 GMT on Wednesday.
The thieves stole about £3,000 from one of the sisters before fleeing.
"I'll never forget it... their masks. They said they were looking for somebody who was selling drugs. I said 'we're old-aged pensioners, we wouldn't be selling drugs'," said May Kelly.
The men are thought to have made off in a dark-coloured car that was parked in Oak Way.
The sisters, both in their 80s, live close to each other.
May said: "I was here last night. I come in every night and sit for an hour with her.
'Flew in'
"We were sitting in the living room, watching television, and all of a sudden, we heard an awful noise at the back."
Eileen went to the kitchen to check the back door.
"I followed her in," May added. "The door had been locked, but Eileen must've gone to open the door and they flew in. Came right in on top of us.
"Two of them went up the stairs - there's nothing there.
"They went round the settee - there's nothing there.
"But my bag was sitting... he said 'is there any in that?'. I said no. He said 'let me see', and when he looked in I said 'that's just my wee bit of savings'.
Bogus caller
"When they were going out he said to the other one to lift the bag and away they flew.
"We just couldn't do anything after because we didn't know who to run to, to tell the truth."
May said it is the second time she has been robbed in recent years, after a bogus caller came to her door.
"How could people do that?" she said.
"How would they like their mothers to get this? How would they like their mothers to be sitting and men come in? Old-age pensioners not able to defend themselves?
"It's been terrible to be quite honest with you. Last night, we got such a shock to think that they'd come through your door."
The police have appealed for anyone with information to contact them.