'Elvis' crosses the line for peace in Belfast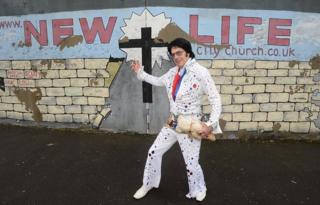 A church minister, dressed as Elvis Presley, has crossed a so-called peace line in Belfast in a bid to promote peace and reconciliation work.
The Reverend Andy Kelso fits in performances as a professional Elvis impersonator around his day job as a Church of England minister.
He walked from the Falls Road - one of the city's best known republican areas - through to the Shankill Road, a strongly unionist part of west Belfast.
He later staged a charity concert.
Outside the Falls Road library on Saturday morning, passers-by caught the unusual sight of the Las Vegas-era Elvis Presley, teddy bear by his side, performing some of his greatest hits.
The minister, who is visiting Northern Ireland from England, brought over his Elvis gospel-tribute act to walk and sing along the peace walls of Belfast.
Barrier
After posing for photos in front of the Bobby Sands mural on the Falls Road, and stopping for a chat with workers in the local café, Elvis made his way through the barrier that separates both communities, and on to the lower Shankill Road.
He then performed a charity concert in the City Life Centre, in aid of the Northern Ireland Children's Hospice.
Mr Kelso was invited to Belfast by the Townsend Street Presbyterian Church, just off the Shankill Road.
He sees the music of Elvis as a way to reach out to both communities in Northern Ireland.
"I just feel that Belfast wants and needs some joy," Mr Kelso said.
"It's had so much that's not joy, hasn't it? And so many peace initiatives have failed, but the people are so friendly. It's only a few people in life that spoil everything.
"I just think people want a reason to celebrate so it was a thrill for me and humbling to walk this peace line."
'No sectarian baggage'
Jack Lamb, minister of Townsend Street Presbyterian Church, explained why he thought Elvis was the perfect choice for the peace walk.
"One of the joys of discovering a man who is doing an Elvis tribute act is that Elvis carries no sectarian baggage," he said.
"He's equally loved on both sides of the peace line wall and to me that's thrilling because, so often when you try and organise event, you discover it's seen as either a Protestant event or a Catholic event.
"Here's someone who straddles (both) and hopefully will bring the communities a bit more together."
David Bell, a member of Townsend Street Presbyterian Church, grew up on the Shankill Road and has spent his life there.
"For someone like the Reverend Andy Kelso to come over and see 30ft walls and barbed wire on fences, it's a bit of a surprise to him," Mr Bell said.
"When you go back to 1998 and you have the Belfast Agreement, you would have thought the politicians would have brought people together from both sides of the community, but obviously not.
"It's taking people from the church to do it."
Pastor Jack McKee, from New Life City Church, said there were still some major issues in different parts of Belfast, but his church has been involved in trying to get barriers, which divide the two communities, opened.
"Our church is on Northumberland Street which is half on the Shankill Road and half on the Falls Road, so we're uniquely placed," Mr McKee said.
"These events show that there are people working on the ground to move things forward and not just staying static."
Andrew Lawther, manager of the Falls Road library said getting a visit from Elvis had made his trip into work on a Saturday worthwhile.
"We're glad he's here as the libraries just want to be part of the community and we enjoy having things like this on as it brings people out.
"It's something a bit different, it's colourful, bright, vibrant on a Saturday morning. It's hard to beat."