Alliance Party calls for NI flood policies review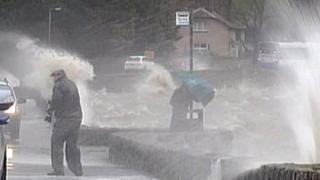 The Alliance Party is calling for an overhaul of policies to tackle flooding in Northern Ireland.
Two MLAs are tabling a motion in the assembly on Monday calling for the executive to reduce Northern Ireland's environmental footprint.
The motion is in the name of Anna Lo and Kieran McCarthy.
It comes after Northern Ireland experienced one of the wettest winters on record with many places flooding, particularly long coastal areas.
According to statistics from the Met Office, to date, this winter, Northern Ireland has had 434.5mm of rainfall - and there is still officially a week left in the season.
In 1994, the total rainfall in Northern Ireland for the entire winter was 489.7mm.
On a UK-wide basis the rainfall record for the season has already been broken.
The incessant storms and rainfall over the past two months have made it the wettest winter in the UK since records began in 1910.
The Alliance motion reads: "That this assembly notes the recent incidents of serious flooding; expresses its gratitude to emergency services, public workers and volunteers who worked hard to minimise the impact of the flooding and believes that the seriousness of future flooding is likely to increase as a direct result of climate change."
It also calls for the executive to reduce Northern Ireland's environmental footprint, and "consequently, its contribution to climate change".
It further calls on the Office of the First Minister and Deputy First Minister to initiate a "holistic overhaul of flood mitigation policies".
The motion says changes could include a cross-departmental approach to emergency planning, placing a single agency in charge of co-ordinating relief, having an audit of the effectiveness of current flood defences and improving the flood warning system.