GAA shows red card to racist and sectarian abuse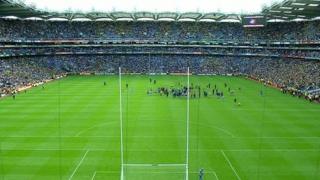 The Gaelic Athletic Association (GAA) has voted to make racist or sectarian abuse a sending-off offence.
Members of Ireland's largest sporting organisation took the decision at their annual congress in Dublin on Saturday.
The motion, which gives referees the power to send off any player who uses racist or sectarian language, was supported by 96% of members who voted.
The previous rule, as it stood, did not explicitly state that such abusive language was a sending-off offence.
'Example'
The rule change has been welcome by the Immigrant Council of Ireland.
The council's chief executive, Denise Charlton, told the Irish Independent: "As an organisation which reaches every community in Ireland the GAA has a responsibility to ensure that racism does not happen in all its clubs and grounds.
"GAA players are sporting icons for our young people and by taking a stand against racism they are setting an example which should be followed in school and other lower level games."
The congress was held at the GAA's headquarters in Croke Park, Dublin.