David Black murder: Dublin man denies charges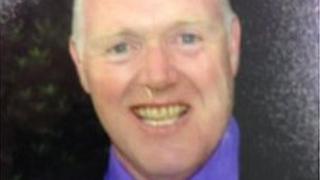 A man has pleaded not guilty at a Dublin court to withholding information in relation to the murder of Northern Ireland prison officer David Black.
Vincent Banks, 44, of Smithfield Gate Apartments, Dublin, pleaded not guilty at the Special Criminal Court hearing.
Mr Black, a 52-year-old father of two, was shot dead on the M1 in County Armagh as he went to work at Maghaberry Prison in November 2012.
He was the first prison officer in NI to be murdered in almost 20 years.
The charge states that the accused, between 10 October and 20 December 2012, had information which he knew or believed might be of material assistance in securing the apprehension, prosecution or conviction of another person for a serious offence, namely the murder of David Black, and failed to disclose the information to police.
Mr Banks is also charged with membership of an unlawful organisation styling itself the Irish Republican Army, otherwise Oglaigh na hEireann, IRA, on 18 December, 2012.
A counsel for the state said the prosecution was applying for the court to sever the indictment and first proceed with the charge of withholding information.
He asked that the court remand Mr Banks on the membership count and proceed with that matter immediately upon the judgement on the withholding information count.
The trial was due to begin on Tuesday but counsel for the accused man asked for it to begin on Thursday instead.
Access to PSNI information
Last week the non-jury court ruled that the trial would proceed despite a defence application to adjourn the matter.
The defence counsel had argued there was a "real and serious risk of an unfair trial" if the case went ahead without the defence being given access to material from the PSNI investigation into the killing.
On Tuesday, he told the court that late on Monday night his solicitor received a fax indicating that what the defence had been looking from the PSNI may be obtained.
He said a PSNI inspector had confirmed the disclosure request was under review and was seeking more information. He added the prosecution had also furnished the defence with a voluminous box of disclosure that would require "very careful parsing".
The presiding judge said it seemed the prosecution was happy with a short adjournment in the case. He said the court had previously made a finding that it had no control over the procurement of documents in the possession of the PSNI.
The judge said the court would put the matter back until Thursday but it should then proceed.