Bill Clinton to honour John Hume in Londonderry speech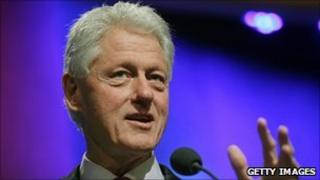 Former US President Bill Clinton is to pay tribute to John Hume during his visit to Londonderry next week.
Mr Clinton will honour the former SDLP leader's contribution to peace in Northern Ireland in a speech at the city's Guildhall Square.
SDLP assembly member Pat Ramsey said it was a "worldwide mark of respect".
"To have Mr Clinton return to Derry, a city that is a shining example of how people live together and work for a better future, is fantastic," he said.
During his visit to the city, Mr Clinton will also visit the University of Ulster's Magee campus.
Mr Clinton is also due to visit Belfast, where he will attend the opening of a new department at Queen's University named in his honour.
He has previously described working on the Northern Ireland peace process as one of the "great honours" of his life.
His last trip to Northern Ireland was in 2010 when he outlined his ideas for building economic prosperity during a visit to Derry.