Northern Ireland fishermen: Minister pledges cash aid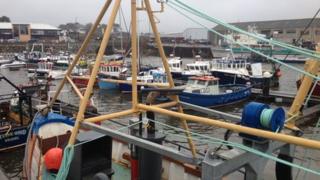 A £400,000 package for Northern Ireland fishermen has been announced by the agriculture minister.
Michelle O'Neill was speaking after meeting fishing representatives on Tuesday.
Fishermen were seeking financial aid after the recent bad weather.
They said the industry was at breaking point and they could not get out to get fish their quota allocation due to the ongoing bad weather.
On Tuesday, Ms O'Neill said she would be seeking the support of her colleagues on the Stormont Executive to bring forward the package.
"We are looking at some sort of package in the short term which will help them alleviate some of the immediate difficulties that they have," she said.
"We are also going to look at a task force to take a root and branch look at the industry and how we can help the industry to grow and be sustainable in the time ahead."
She said the other issue was how fishermen could avail of European funding.
Martin Rice, who is a fisherman from Ardglass, County Down, said the meeting had been "very productive".
"There were a few points raised, both for the short and long term, and the Executive need to help the minister because there are things that need to be rushed through with all-party support," he said.
"The £400,000 would be greatly appreciated and will alleviate a lot of the suffering.
"We've talked about medium and longer term issues that we're going to try and solve as well. There were things back on the table today that we thought were never going to be discussed again, so we are very happy."
On Monday, a charity that helps fishing families in need said many were facing financial hardship.
The Fisherman's Mission said that the charity had paid out about £20,000 in emergency payments since the weekend.
The charity said fishermen in Ardglass, Portavogie and Kilkeel were struggling and that the rising price of fuel and dwindling stocks of shellfish had also impacted on their livelihood.