Elluminate home schooling computer system agreement 'close'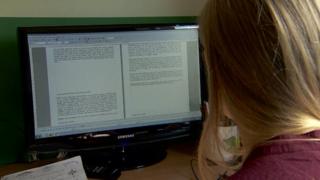 Teachers' unions say they hope to get agreement soon on a computer system that allows sick children to take part in school classes from their homes.
The education minister has asked for a speedy resolution to the problems that have meant only a handful of schools use the Elluminate system.
All schools have had the equipment for Elluminate since 2011.
It turns a camera on the teacher and allows children to listen to the class and join in from their home computer.
Some children cannot attend school because they are suffering from a physical illness, or they have an autistic disorder which makes classroom noise and activity difficult to deal with.
Parents have been lobbying to get access to the Elluminate system and they feel teacher unions have been blocking its use.
Sarah Uprichard from Lurgan, County Armagh, would like it for her daughter, Amy, who is recovering from cancer.
Deadlock
"It's something that every child who needs it should get. It's there in every school but it is being blocked," she said.
Education Minister John O'Dowd has taken an interest in the issue.
He said Elluminate is not being used to its full potential and he has instructed a working group of unions and employers to negotiate on how to break the deadlock.
Those talks are said to be at a delicate stage, but the teaching unions are hopeful it will be agreed by April.
In a statement, the working group said it "agrees that Elluminate is only one of the methods available to support learning. The working group continues to meet in order to finalise an agreed Elluminate usage procedure."
However, as the months pass, Amy Uprichard feels her cancer treatment over the last 10 months means she has fallen behind on her A-level work.
"I have had four bouts of chemotherapy and blood transfusions. I started back to school full-time on Monday, but I am still trying to get my head round where the class is at. I've really fallen behind. Elluminate would have been really useful for me."
GCSEs on hospital bed
Amy is so keen to keep to a normal schedule, she insisted on doing her GCSE exams from her hospital bed while getting chemotherapy for leukaemia.
Her school, Banbridge Academy, has been very helpful, visiting her, sending work and giving one-to-one classes, but she said it was no substitute for being with her classmates.
"If I had had Elluminate I would have been able to be in class without actually being there," she said.
"I couldn't go to school during treatment because my immune system was weak and I got very tired."
When 16-year-old Amy was in hospital in Belfast, the education board there provided tuition, but the family got a shock when they realised home tuition was not available in the Southern Education Board.
In fact, all the boards outside Belfast stop providing home teaching after the compulsory school age of 16.
Assembly member Stephen Moutray said he was horrified and had been writing to the Department of Education about it.
"They should provide it, we are in an era when young people are encouraged to stay on in education. By not providing home tuition, that's a big issue, they're not delivering," he said.
Mr O'Dowd said he was not satisfied with that state of affairs and would make sure all areas have the same provision, once the long-awaited education and skills authority comes into being.