Men jailed for attack on trainee police officer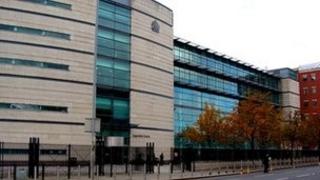 Two men, one an Irish Army reservist, have been sentenced on gun charges arising from an attack on a trainee policeman's home in 2009.
Belfast Crown Court heard the attack, in Garrison, County Fermanagh, was foiled by undercover police.
The judge told reservist Gerard James McManus, 28, and Kevin Barry Nolan, 35, they planned to endanger the student's life.
The men were jailed for a total of 12 years and six months.
The attack was foiled by undercover police during an "intelligence-led operation'' at a block of flats in the village where the student officer was living, the court heard.
The judge said an aggravating factor against McManus was that he had served nine years in the Irish army and was trained in the use of weapons.
McManus, from Fern Hill, Letterkenny, Donegal, in the Republic of Ireland, was sentenced to six years and six months in prison while Nolan of Main Street, Blacklion, County Cavan, received a six-year sentence.
The original charge of attempting to murder the officer on 21 November, 2009, was left on the books in January when the men admitted having a gun with intent to endanger life, and to possessing articles likely to be used in the preparation or instigation in acts of terrorism.
McManus also admitted using a gun to resist his arrest at the time when he fired a shot in making his escape when undercover officers moved in.
Although arrested the following morning hiding in a shed, no weapon was recovered.
Loaded magazine
Nolan, who once stood unsuccessfully as an independent republican candidate, was arrested at the scene in a Vauxhall Astra car.
He was found in the front passenger seat wearing black woolly gloves and sitting on a loaded magazine for a Glock pistol.
The judge said Nolan had specifically acquired the blue Astra car "to carry out these offences''.
The judge said that police recovered a bag from the back of the car that contained a change of clothes.
Following his arrest McManus told police: "There was no way I was going to shoot him... I was going to fire a couple of shots in the air, to scare him, wanted to terrify him like."
In his interviews Nolan claimed that as far as he was concerned: "No harm was going to be caused," and that firing the gun was meant to, "put the frighteners on him".
McManus was sentenced 13 years with six years and six months in custody and the remainder on licence.
Nolan received 12-year sentence with six years in prison and six on licence.