Aloysius Hackett murder trial: Son's reason for killing a 'cover-up'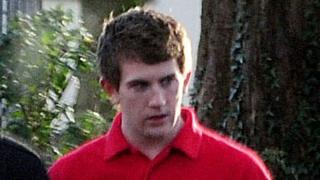 A County Tyrone teenager told a psychiatrist that his belief in killing one of his parents so that they would become his guardian in heaven was a cover-up and excuse, a court has heard.
Sean Hackett, 19, is accused of murdering his father Aloysius at the family home in Augher in January 2013.
He has admitted the killing but denies murder.
Three months before shooting dead his father, Mr Hackett had tried to strangle his mother Eilish.
His trial at Dungannon Crown Court was told that experts disagree whether he was suffering an abnormality of mind that met the test of diminished responsibility that would absolve him of murder.
The court heard that he told psychiatrist Dr Fred Brown: "I tried to believe that my mother would be in heaven. These thoughts felt like a good cover-up. I didn't really believe that."
Under cross-examination, Dr Philip Pollock, a consultant forensic clinical psychologist, agreed Sean Hackett had told him: "I nearly made myself believe that. I needed to do it."
Depression
But Dr Pollock said the word "cover-up" bothered him and it could be a question of interpretation and semantics.
He said that Mr Hackett had exercised self-control four or five times on the day he shot his father, when he decided not to take the opportunity to kill one of his parents.
He said Mr Hackett had then "revved himself up" to shoot his father, and had told him: "I felt excited I was going to do it. It felt powerful."
Dr Pollock did not believe that he felt pleasure or enjoyment in carrying out the killing, but rather relief and release that his depression would be resolved, and his world changed forever.
Although Sean Hackett had demonstrated rational decision-making and self-control, Dr Pollock argued the motivation behind the killing was driven by an irrational belief that they would become his guardian in heaven.
Mr Hackett has always admitted killing his father, but denies murdering him or possessing the hunting rifle used in the fatal shooting.
The trial is expected to last up to two weeks.