Ballymartin park and ride scheme gets the go-ahead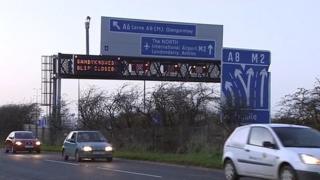 Plans to build a £3.8m park and ride facility at Ballymartin, County Antrim, have been given the go-ahead.
Work on the scheme near Templepatrick is expected to start this summer and take around one year to complete. When finished, it will comprise 428 car parking spaces.
The proposed site is adjacent to the M2 motorway (junction 5) between Belfast and the International Airport.
Transport Minister, Danny Kennedy, said it was a "significant scheme".
"The aim of providing park and ride facilities is to make it easier for people to use public transport at the busiest times of the day and as a result help reduce road congestion," he said.
"Once constructed, this facility will be an important element of my department's commitment to promote more sustainable travel, by offering commuters an alternative for their journey."
Clive Bradberry, Translink infrastructure executive, said: "The popularity of park and ride has grown significantly in recent years and indeed is now an important part of our ongoing development plans to provide attractive travel options for our customers.
"When finished, this scheme will be a great asset for the surrounding community allowing them to easily interchange from the car on to the bus and travel into Belfast."