Stewart Dickson in appeal over negative equity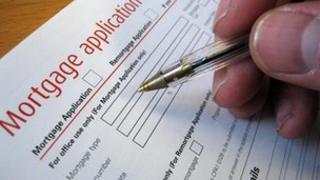 Banks and mortgage companies in Northern Ireland are being urged to do more to help homeowners who are in negative equity.
Northern Ireland has the highest rate of negative equity in the UK at 41% of homeowners since 2005 - about 68,000 people struggling to cope.
NI homeowners saw property prices start a rapid rise in 2005, peaking two years later.
However, the boom then went bust and property prices crashed.
The end of last year brought some slight signals of growth, and a small chink of light at the end of a dark few years for house prices.
But, the property price collapse was so big, and the recent improvements so slight, that the impact on negative equity has been minimal.
That has left Northern Ireland homeowners facing much bigger struggles that homeowners in the rest of the UK.
The Alliance Party's Stewart Dickson, a member of the assembly's regional development committee, said mortgage lenders must help those people out.
"It's a very serious problem we're approaching nearly half of those people with mortgages in Northern Ireland in negative equity," Mr Dickson said.
"I think one of the things that we might be able to do in the social development committee and indeed the Northern Ireland Assembly is to look to see how we can encourage the bigger mortgage lenders to help people move that negative equity.
"It is something that regrettably the bigger lenders are going to have to tackle."