'Illegal meat' investigation in County Armagh welcomed by UFU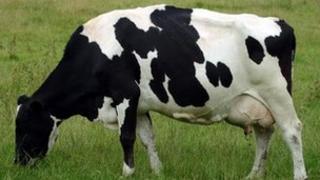 A police operation that uncovered a suspected illegal animal slaughter and meat operation in County Armagh has been welcomed by a farmers' union.
The discovery was made on Monday, following searches at two properties in the village of Forkhill.
A third search was also carried out in Bessbrook, County Armagh, but police said no illegal activity was discovered at that location.
The Ulster Farmers Union (UFU) said it welcomed the police response.
"At this stage we don't know the scale of this operation, how much stock has actually gone through it," UFU president Harry Sinclair told BBC Radio Ulster.
He added that "until the investigation is completed, it will be difficult to say just what has been happening", but he said that farmers have been urging the police to take action against rural crime for some time.
"It's good now to see action taking place on the ground," Mr Sinclair said.
Staff from the Department of Agriculture and Rural Development (Dard), the Food Standards Agency and Newry and Mourne council were involved in the co-ordinated search operation.
"I think that is what is needed to stamp it out - this cross-departmental, cross-body approach and we welcome that," the UFU president said.
Sinn Féin councillor Terry Hearty, who lives in Crossmaglen, County Armagh, said the discovery of suspected illegal meat entering the food chain would cause great concern in the local meat industry.
"All of the farmers here are qualified under the Farm Quality Assured scheme and their cattle are looked after to a very high standard," he said.
"When it goes to the factories, it is overseen by the Food Standards Agency and by Dard, all to a very high standard."
Mr Hearty said the public could not know what kind of conditions might exist within illegal abattoirs.
The Sinn Féin representative said he did not have details of what had been uncovered during the Forkhill searches, but expected to receive an update from Newry and Mourne council later on Tuesday.
Mr Hearty said he did not believe there was any paramilitary involvement in the illegal meat industry in County Armagh.