Stormont ministers to outline Transforming Your Care 'vision'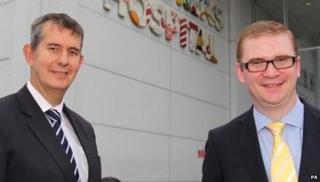 Health managers in Northern Ireland are to be briefed by two Stormont ministers on their strategy to change how services are delivered.
Finance Minister Simon Hamilton and Health Minister Edwin Poots will address the NI Confederation for Health and Social Care conference later.
They will talk about the Transforming Your Care programme.
Their joint address is billed as highlighting "the challenges and benefits of implementing reform".
'Partnership'
The initiative is the biggest overhaul of the health service in Northern Ireland for decades.
Speaking before the conference, Mr Hamilton said the programme was "consistent with my vision for reform across the wider public sector".
"One of my top priorities is to build a more innovative, efficient and effective public sector," he said.
"To achieve this, I am looking at where reform has been successful; one of the key factors is partnership and working better together.
"We must optimise available resources, from central and local government, voluntary and community services and the private sector, if we are to achieve reform in our service delivery to meet both citizen expectations and government demands for efficiency."
Mr Poots said: "The recent difficulties in our emergency departments make me even more determined to ensure our services are sustainable.
"It is only by reshaping the model of care to deliver more services in primary and community care that we will be able to effectively tackle these challenges.
"This reshaped model of care is at the heart of Transforming Your Care and is at the heart of my vision for our health and social care services."
The scheme was criticised on Tuesday by the union Nipsa as undermining the NHS by "withdrawing from key areas of public sector provision, subsidising private medical provision's control of waiting lists and failing to support with appropriate funding and staff a universally available public health system".