Domestic violence and sexual abuse 24-hour helpline launched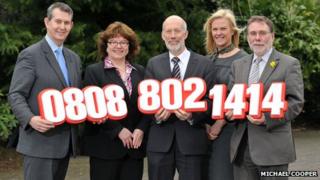 A round-the-clock service to help victims of domestic violence and sexual abuse has been launched by three Stormont ministers in Northern Ireland.
The 24-hour Domestic and Sexual Violence Helpline is run by the Women's Aid Federation Northern Ireland.
It is funded by the Departments of Health, Justice and Social Development.
The helpline was set up in 2005 for domestic violence victims but it has now been expanded to offer support to victims of sexual violence as well.
It includes a confidential telephone, email and text service.
Support from the helpline's staff is available to all women and men who are affected by domestic and sexual violence.
Northern Ireland's Health Minster, Edwin Poots, Justice Minister, David Ford, and Social Development Minister, Nelson McCausland, attended the launch.
Mr Poots said: "It is widely believed that, as well as reported cases of domestic and sexual violence, there are many more cases that remain unreported.
"Whether through intimidation, abuse or violence, it is appalling that victims feel unable or unwilling to confide in someone about what they have to endure.
"The 24 Hour Domestic and Sexual Violence Helpline can help break that silence by providing a confidential support service to all victims, regardless of their age, gender, ethnicity or sexuality."
Mr Ford acknowledged that while the government provides financial assistance to the helpline, the service is run by volunteers.
"I want to thank them for the support they provide to some of the most vulnerable in society," the justice minister said.
"For many that initial contact with the helpline is the first step on the journey to secure protection and a safe environment free from fear and harm.
Mr McCausland said: "As the minister responsible for the voluntary and community sector I have great appreciation for the work Women's Aid Federation, the fore running voluntary organisation in Northern Ireland addressing domestic violence."
The social development minister said the helpline would be "a lifeline to many victims".
The 24 Hour Domestic and Sexual Violence is available on 0808 802 1414.