Funding boost of £1.8m for Northern Ireland's coastal communities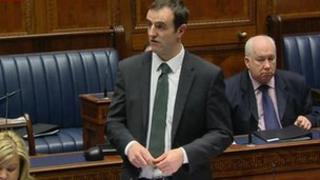 Environment Minister Mark H Durkan has announced a £1.8m funding boost for coastal communities in Northern Ireland.
The money will be made available over the next three years for regeneration.
This is in addition to the £871,000 allocated to four projects altogether in 2012 and 2013 through this fund.
The coastal communities fund aims to support the economic development of coastal communities by promoting sustainable economic growth and jobs.
It is hoped as a result that people will be better able to respond to the changing economic needs and opportunities of their area.
Minister Durkan said: "I urge coastal communities to identify quality projects that would benefit from this fund, particularly projects that promote a sustainable economy, create jobs and tackle disadvantage.
"This fund will enhance regeneration and job creation through investment in tourism, business and the built and natural environments of coastal settlements.
"It will also promote training and skills development, to enable local people to secure jobs in growing local industries.
"The third round of the coastal communities fund will have three years of budgets combined into a single round.
"This considerably larger bidding pot allows for more ambition, and I encourage projects of a greater scale which could offer significantly bigger economic impact to apply.