Stormont topless incident: William Hay warns MLAs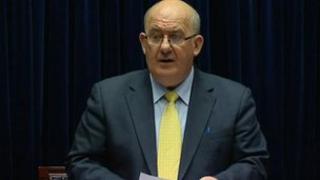 The assembly speaker has warned MLAs they must take responsibility for events they sponsor at Stormont.
It follows a weekend incident when a feminist appeared topless save for a large feather necklace at an event to mark International Women's Day.
Jim Allister, the leader of the Traditional Unionist Voice party, called it "indecent exhibitionism".
He said it did nothing for the standing of Stormont and asked who was responsible for overseeing such events.
Speaker William Hay said members who sponsored such events had to take responsibility and needed to be "held to account".
The woman, Cara Park, was taking part in the "Alternative Miss Ulster" event.
She told BBC Radio Ulster she was expressing herself.
"How can I be indecent in my natural state? I was giving a speech at a private event, in front of my fellow feminists and was expressing my femininity," she said.