Mervyn McCall sues former Mivan boss for unpaid money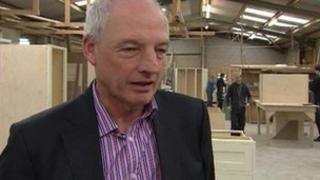 A former executive of the Mivan construction company is suing the firm's founder over money he said he is owed for his shareholding in the business.
Mervyn McCall worked at Mivan from 1976 until 2010 and was effectively deputy to the firm's founder Ivan McCabrey.
He claims Mr McCabrey failed to pay him £550,000 as part of a deal to sell his shares in 2010.
Mr McCabrey is contesting the action and has also filed a counter claim.
The case was mentioned during a brief hearing on Monday.
It is due for review on 23 May before proceeding to trial in June.
Mr McCall's writ claims that in December 2010 Mr McCabrey agreed to pay him £1.85m for his stakes in four firms: Mivan UK, Arkin Investments, Clearwater Logistics and Ardnavalley Management Company.
The writ adds that a first payment of £700,000 was received on 21 December 2010.
However, it alleges that a second payment of £550,000 that was due on 31 December 2011 was not paid.
A final payment of £600,000 was allegedly due on 31 December 2012.
However, as the writ was filed in March 2012 there are no details on the status of that final payment.
Mivan went into administration and then ceased trading earlier this year.
The firm had made massive losses on projects in Romania, which led to a restructuring of the business in 2012.
In court in Monday, a barrister said there could be some difficulties with document discovery given the business was in administration.
Mivan's assets, including its name and its Antrim factory, were sold to the Newry-based MJM Group in January.
MJM has continued to trade under the Mivan name and has hired some former Mivan staff.