Fr Eugene Boland resumes ministry after abuse acquittal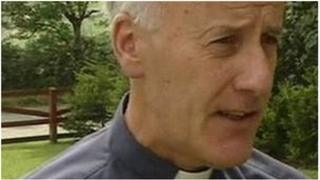 A priest who was acquitted in 2012 of sexual assault charges against a teenage girl is to return to ministry in the Diocese of Derry.
Fr Eugene Boland, a parish priest in Cappagh, County Tyrone, stepped aside four years ago while the allegations were investigated.
The administrator of the diocese said both the legal proceedings and Church processes have now been completed.
Fr Boland will resume his duties during a Mass in his parish on Saturday night.
Fr Francis Bradley, Diocesan Administrator of the Diocese of Derry, said: "I am glad the civil and canonical processes in respect of Fr Eugene Boland have drawn to a close.
"Fr Eugene can now resume the public exercise of the priestly ministry.
"These processes have demanded time and effort on the part of many people. They have been difficult for all involved.".
The administrator added: "I warmly welcome Fr Eugene's return to Cappagh."
Fr Eugene Boland, of Killyclogher Road in Omagh, was acquitted of all five charges against him in June 2012 following an eight-day trial at Londonderry Crown Court.
Speaking to BBC Radio Foyle shortly after his acquittal, Fr Boland said he had been "devastated" by the case but had forgiven the person who made the allegations.
"My faith was strong and I always believed the truth would come out in the end," he said.