Ulster Rugby video edited by Saracens ahead of Heineken Cup clash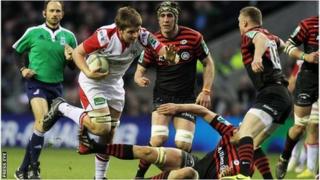 A video released by Ulster Rugby featuring Irish international Willie John McBride has received a tongue-in-cheek response from a rival team.
On Sunday, Ulster posted a video featuring the former international Willie John and the Ulster Orchestra performing Stand Up For The Ulster Men.
Last night however, London club Saracens released the same video altered to Stand Up For The Saracens.
The clubs meet in a Heineken Cup quarter-final at Ravenhill on 5 April.
Ulster's video, released last Sunday, is part of their #showURsupport social media campaign and has attracted over 16,000 views.
It features the Ulster Orchestra performing the song with footage of people from across the nine counties joining in.
It also includes Ulster and British & Irish Lions legend McBride, who says: "When you're playing Ulster at Ravenhill, you're not only playing the 15 players on the field - you're playing the whole province of Ulster."
On Monday night, Saracens reposted the same video with the song's vocals changed.
Mr McBride's line has also been altered to: "You're not playing the whole province, you're only playing 15 players, so you are."
The Saracens version currently has just over 2,300 views.
The videos are the latest in a social media rivalry between the two clubs.
Last year, Ulster campaigned for fans to Make Twickenham Home ahead of last year's Heineken Cup quarter-final against Saracens.
Two weeks ago the London club released a video asking supporters to Make Ravenhill Home for the upcoming fixture.
However Ulster Rugby said their video, five weeks in the making, was not created in response to Saracens.
Neil Brittain, communications manager at Ulster Rugby, said: "Our video is about inspiring and motivating our fans from right across the nine counties of Ulster to get behind the team on 5 April."
Mr McBride said: "As far as I'm concerned, none of this video stuff really matters. The answer to it all will be on the field and on the scoreboard."
When contacted, Saracens said they had no comment.