Samurai sword attack 'part of family feud'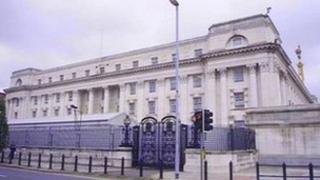 A man was attacked with a samurai sword and knife as part of a feud between two families, the High Court has been told.
Martin Heaney suffered stab wounds to his body, arms and legs after being dragged from his north Belfast home in the middle of the night, a prosecution lawyer said.
The judge told a bail hearing for one of two men accused of attempted murder that it was a "barbaric attack".
William Mongan, 28, of Bleach Green, Belfast, denies the charges.
He is alleged to have gone to Mr Heaney's home in Ardoyne last September armed with a samurai sword. It was claimed another man with Mr Mongan had a knife hidden up his sleeve.
The men shouted they were going to kill Mr Heaney, but his wife and her sister managed to pull him to safety, the prosecution said.
The victim claimed later to have recognised the two men. All three are members of the Travelling community.
Asked by the judge what provoked the alleged attack, a prosecution lawyer said there was a feud between the families.
A defence lawyer said Mr Mongan had provided an alibi, and traffic cameras would identify him if he had been involved.
Bail was sought on the basis of delays in progressing the case.
After the judge was told police had still not obtained a statement from the emergency doctor who treated Mr Heaney at the time, he said no satisfactory explanation for this delay had been provided.
He adjourned the bail application until next month.