NI airspace under Irish control in 'landmark trial'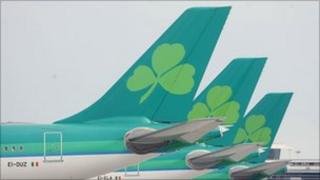 A part of Northern Irish airspace is being controlled by authorities in the Republic of Ireland for the first time ever as part of a trial.
On 9 January, UK air traffic control service NATS handed over control of an airspace area near Rathlin to the Irish Aviation Authority (IAA).
The trial will run until September and aims to improve air traffic efficiency.
Irish transport minister Leo Varadkar said it was "landmark trial".
He added: "It's good news for airlines and their passengers, should further improve efficiencies and make our airspace ever safer."
UK aviation minister Richard Goodwill said the trial put "UK and Ireland at the cutting edge of air traffic control".
Richard Deakin, chief executive of NATS, said the project was among the most "challenging and complex" ever undertaken between the two air traffic authorities.
The trial is part of the Single European Sky Initiative, promoted by the EU, which aims to organise airspace into FABs (functional airspace blocks).
These are created according to traffic flow rather than national borders.