Assembly Finance Minister: Grim warning on public spending cuts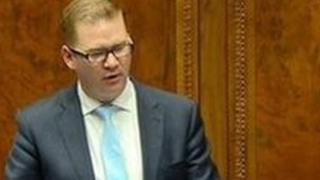 NI Assembly Finance Minister Simon Hamilton has sounded a grim warning about future cuts in public spending.
In a speech in Belfast he said it was becoming increasingly clear that the next number of years would eclipse even the last four years of austerity.
He said that while the economy was on the mend, the Treasury had signalled a 17% drop in expenditure over the next five years.
Mr Hamilton said it was not yet clear what that meant for Northern Ireland.
"We do not have data for that far in advance," he said.
However, he has already committed to savings of £300m between 2013 and 2016.
'Stark warning'
His speech, at an event hosted by the Chartered Accountants Ulster Society, came ahead of next week's budget from the Chancellor, George Osborne.
"I do not like having to issue stark warnings about the future," he told them.
"But I would not being doing my job if I gave people the impression that just because the economy is improving, public spending will automatically see the benefit."
Mr Hamilton said he wanted to reform and improve the public sector, but it was "not a code for slashing services."
He also criticised "the immaturity" of some parties in the Northern Ireland Executive who are blocking Westminster-driven reform of welfare payments .
A £15m penalty has already been imposed on Stormont and unless agreement is reached it will rise to £105m in 2015.