US Vice-President Joe Biden: Peace needs dignity and respect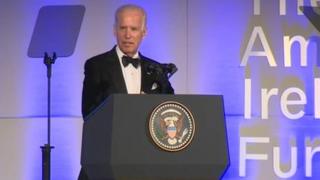 He turned up to collect a peace award. And delivered a message that was personal, poetic and to the point.
Peace, said Joe Biden, cannot exist unless everyone is treated with dignity and respect.
The vice-president of the United States also told the Ireland Fund's gala dinner in Washington on Thursday what was wrong with the Northern Ireland peace process: there was still too much fear, too much mistrust, and too many missed opportunities.
Mr Biden had shared a table with the first and deputy first minister in the Ronald Reagan Centre. And in his address, he praised their courage and acknowledged it was a struggle to bring to fruition the Good Friday Agreement.
His words of praise were mixed with encouragement, poetic advice and prayerful wishes. But the message was firm. It was time to move on and break out of the nightmare of the past.
"Dignity like peace doesn't live on paper. It lives in our hearts. It's about treating people with respect regardless of the past, regardless of our ancestry, regardless of what has gone before. It's universal. Everyone, everywhere is entitled to be treated with dignity," said Mr Biden.
The vice-president of the United States suggested the Haass proposals offered a framework for moving forward.
Snub
The remarks gave our political leaders something to reflect on ahead of their first formal meeting at the White House. Whether the language will be less diplomatic in private is unclear.
And so is the presence of President Barack Obama. The White House has not confirmed whether the president will keep the tradition of dropping in the meeting.
The ministers have played down the significance of such an encounter, having met him before. They point out they will greet him at the Speaker's lunch on Friday and that he is a busy man.
But it will be seen as a snub if the president fails to "drop in".
Whatever happens, the first and deputy first ministers cannot escape the problems around flags, parading and the past back home. They want to finish the job. The problem they have is how, and when.
In the words of Joe Biden, it is a simple proposition - treating everyone with dignity and respect. But he added: "so incredibly difficult to accomplish."