NI patient safety: Charity call for urgent review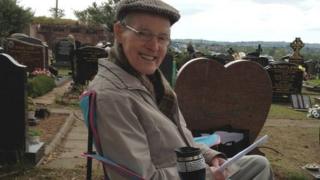 A national charity for patient safety and justice has called for a review of patient safety in Northern Ireland.
The charity has written to Health Minister Edwin Poots seeking an "independent, urgent" review.
Action Against Medical Accidents said it had been contacted by a family after an investigation into their loved one's death revealed a series of failings.
The family only became aware of the details a year later after a BBC Spotlight investigation.
Charlie Patterson, 86, died after a lengthy wait in the Royal Victoria Hospital's emergency department in January 2013.
Spotlight reporter Declan Lawn said: "There were significant delays in getting him the treatment he needed.
"But, crucially, his family weren't told that at the time.
Contributory factor
"They first heard of it two days after the Spotlight programme went out when they got a call from the Royal to ask them to come in and read a report into his death."
An investigation is under way into several deaths at the Royal Victoria Hospital's emergency department in which delays in treating the patients may have been a contributory factor in their deaths.
On Tuesday night, 18 March, Spotlight will look again at the latest developments in the story.
It will also speak to the family of Mr Patterson.
"Charlie lay on a trolley for several hours," said Declan Lawn.
"He was becoming more and more unwell and eventually he lost consciousness. By the time the doctors realised how serious his condition was he had an internal haemorrhage inside his head. It was too late.
"He was moved up to a ward and he died three days later.
"He had waited too long to see a doctor, he had waited too long to get a cat scan. And he had waited too long to get the drugs that he needed and that might have helped him.
"One of the most difficult things for the Boyle family is that they weren't told that Charlie was even in the emergency department until 2am - seven hours after he had arrived.
"So they missed those last crucial hours with him when he was still conscious and they didn't get to say goodbye."
BBC Northern Ireland health correspondent Marie-Louise Connolly said: "Spotlight reveals a catalogue of failings into Mr Patterson's care, resulting in a safety and quality learning letter issued by the Health and Social Care Board to all local hospitals."
The chief executive of Action Against Medical Accidents, Peter Walsh, said the family "felt let down, upset and angry".
Legal obligation
The organisation is now calling for the introduction of a statutory duty of candour, such as is being introduced in England, where organisations would have a legal obligation to be open with families.
Mr Walsh said: "There could not be a clearer example of why a legal duty of candour is needed in Northern Ireland.
"This lack of openness with patients and families must not be tolerated and those responsible should be held to account.
"As things stand, a hospital is not breaking any statutory law, rule or regulation in withholding information of this kind."
Mr Walsh said there were problems with emergency pressures across the UK but those in Belfast were "really extraordinary".
"What really adds insult to injury for the family of Charlie Patterson is that not only were they denied the opportunity of speaking to him when he was in the emergency department, before he lost consciousness, not only potentially could something have been done which may have saved his life, but also they've had to suffer the knowledge that the circumstances of his death have been withheld from them for over a year," he told the BBC's Nolan show on Tuesday.
Mr Walsh said the circumstances of Mr Patterson's death were the subject of a formal, internal investigation and the failings in care became the subject of a learning letter issued by the health board.
"A health system or health organisation who's prepared to tolerate cover-ups or withholding of information of this type is not only lacking in ethics, it is lacking in a patient safety mindset," he said.
"This is something that has to be addressed and addressed urgently."
Speaking to BBC Newsline on Tuesday, Mr Poots, the health minister, said: "All of the evidence that would be indicated to us is that there are a small number of incidents where care falls short.
"There's 800,000 people go through our emergency departments, there's five SAIs [serious adverse incidents] relating to people who have not been treated as well as they should have, where they have actually died.
"So we are looking at a situation where it's very, very sad that that's the case, but we need to reflect that many, many people who are using these services are getting excellent care."
BBC Spotlight is on Tuesday at 22:35 GMT on BBC One Northern Ireland.