Royal Black Institution members deny breaching march ban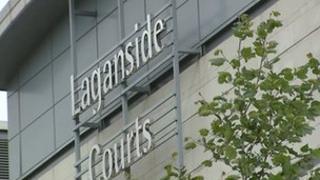 Six Royal Black Institution members knowingly breached a ban on playing music outside a Catholic church during a march in Belfast, a court has heard.
The August 2012 ban was imposed outside St Patrick's Church, Donegall Street.
Six men appeared at Belfast Magistrates' Court charged with breaching a Parades Commission ruling in their role as alleged organisers.
The defence said there was no evidence they had organised the march and could not be held responsible for any breach.
A defence lawyer claimed the organisational role lay with the Belfast Grand Black Chapter as a corporate authority rather than individuals.
The charges were brought over a Black Saturday parade in August 2012.
The Parades Commission imposed the ban on flute bands playing music outside St Patrick's Church following controversy over the conduct of bands outside the same church during a previous march.
Several flute band members have already been prosecuted for knowingly breaching the restriction.
Now some of the alleged organisers of the march are facing the same charge.
Appearing at Belfast Magistrates' Court were Belfast men Thomas Foster, 60, of Woodvale Avenue; William Mawhinney, 67, of Ainsworth Avenue; Alan McIntosh, 60, of Kilcoole Park and Raymond Spiers, 56, from Castlereagh Road.
Alongside them were Thomas Hefferon, 55, of Derrycoole Way and Brian Kerr, 42, of Fairview Gardens, both in Newtownabbey.
A prosecution lawyer argued that all of them were guilty on the basis of a joint enterprise with the flute bands who played tunes.
"We haven't heard any evidence that any of them tried to extricate themselves from the procession," the prosecution lawyer said.
"Nobody who took part in that parade didn't know music was being played on that stretch of road."
But a defence solicitor insisted his clients had done the best they could in the circumstances.
He told District Judge George Conner there was nothing to show the defendants knew they were doing wrong.
He added: "The evidence is simply not there to say that they are organisers."
One of the defendants, Mr Foster, told the court the parade had already started by the time he received the determination.
The case continues.