NI unemployment falls for 13th consecutive month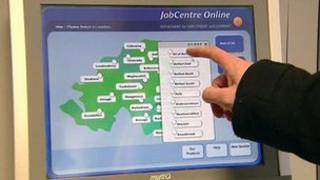 The Northern Ireland economy continues to show signs of improvement, according to the latest range of official data on jobs and production.
The total number claiming unemployment benefit fell by 700 in February - the 13th drop in a row.
It now stands at 57,800.
Figures for production output in the local manufacturing sector show year-on-year growth of 5.5%, although there was a slight dip in the last three months of 2013.
Enterprise Minister Arlene Foster said: "It is encouraging that the number of unemployment benefit claimants continues to fall.
"The continuing positive signals of growth in the local economy are encouraging."
As well as the data on production, figures have also been published on the service sector, which covers businesses such as finance and retail.
It showed growth of 4% in the last quarter of 2013 compared to the same period in 2012.
Northern Ireland's unemployment rate remains unchanged at 7.5%, which is above the UK average.
But Ms Foster said it continues to "compare favourably" to higher rates in the Republic of Ireland and the EU.
Dankse Bank's chief economist, Angela McGowan, pointed out that problems remain, despite Northern Ireland being in "recovery mode."
The jobs figures show the region struggling with youth and long-term unemployment.
She said London needed to come up with "some specific regional growth initiatives".