Rigney Dolphin call centre closes with loss of 30 jobs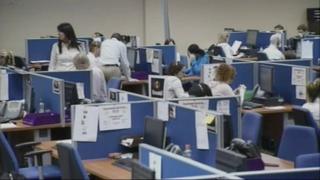 A call centre in Londonderry is to close with the loss of 30 jobs.
The centre, in Patrick Street, was operated by the Irish firm Rigney Dolphin, which employs about 1,100 staff in Waterford, Dublin and Dundalk.
The closure was confirmed by Enterprise Minister Arlene Foster in response to a question from Sinn Féin in the Northern Ireland Assembly.
Ms Foster said all 30 members of staff are "to be made redundant over the next couple of months".
"The job losses are deeply regrettable and are as a result of a commercial decision taken by the company, in light of difficult trading conditions and increasing competition in the business process outsourcing market," the minister told MLAs.
The Derry Journal newspaper reported that the minister announced details of the job losses following an Assembly Question from Sinn Féin MLA Maeve McLaughlin.
'Devastating blow'
Rigney Dolphin provides business services for other firms, including customer services, HR and recruitment.
Derry MLA Colum Eastwood, from the Social Democratic and Labour Party (SDLP), said the job losses were a "devastating blow to the workers at Rigney Dolphin and their families".
"It is important that all relevant agencies are engaged to ensure the workers affected are made fully aware of all of their rights and entitlements at what is no doubt a time of great anxiety and uncertainty for them."
"It is also another huge blow for Derry's economy which continues to feel the bite of decades of neglect in terms of investment in infrastructure and job creation," Mr Eastwood added.
Rigney Dolphin opened its Derry operation in December 2010 with the aim of creating almost 300 new jobs in the city.
'Concerning'
At the time, it was reported that the firm had received £1.2m from Invest NI, and was "expected to generate over £4m annually over the next three years".
Mr Eastwood said it was "concerning" that a company that had benefited from Invest NI funding is to cease operations in Derry "after such a short period of time".
Rigney Dolphin was established in 1990 as a recruitment firm, but has since expanded into call centre provision, consultancy and HR services.
The company's headquarters are located in Waterford city.