Jimmy Ellis: Funeral for Belfast-born Z Cars actor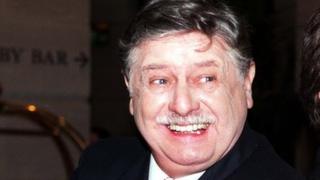 Tributes have been paid to Belfast-born actor Jimmy Ellis during his funeral.
Mr Ellis, 82, died from a stroke in Lincoln Hospital on 8 March. His funeral took place at St Mark's Church on east Belfast's Holywood Road.
He is survived by his wife, Robina, and their son, Toto, his daughter Amanda and three grandchildren.
Toto Ellis told mourners his father had been a "down to earth Belfast boy, proud of his roots beyond belief".
He said he was a "generous hearted man, generous almost to a fault".
He said before he passed away "the last thing we made sure he heard in his ear was that he was a legend, a hero and that we all loved him".
Mr Ellis said although his father would probably be best remembered for Z cars "he would have to say that his proudest moment was in his 20s and 30s when he was directing plays. That for him was his finest moment."
He said there was "a ton [of his father's] writing still to see the light of day and that is what we will focus on as a family".
A minister said the actor, star of Z Cars and the 'Billy plays', had "grown up in the shadow of this church".
"Some of you will be here because you knew Jimmy well, or because you admired him from afar," he added.
He said the respect and affection people had felt for Mr Ellis had been clear to see since his death.
Actor Adrian Dunbar said when he watched Jimmy Ellis in Z Cars "I thought it was all taking place in Belfast".
He added: "Jimmy came to represent Belfast to me and from the very start he always was Belfast to me.
"He was a great son of the city of Belfast and a great son of the east of Belfast."
Mr Dunbar said he was struck by Mr Ellis' "emotional intelligence".
"He became a mentor to me, as he did to many, many actors," he added.
'Honorary uncle'
Ballykissangel actor Frankie McCafferty said audiences had loved Mr Ellis and he felt privileged to have had him as a friend.
"Jimmy became to me kind of an honorary uncle, the kind of uncle everybody wants," he said.
He said the actor "instinctively knew just the right gesture to reach out to people".
Tributes to the actor were also read out from others actors, including David Threlfall and Ciaran Hinds.
Mr Hinds described Mr Ellis as "a wonderful man and a true artist. It was always such a joy to be in is company".
Mr Ellis was best known for his roles in Z Cars and starring alongside a young Kenneth Branagh in BBC Northern Ireland's series of 'Billy plays'.
His funeral cortege was then taken through east Belfast, before the Belfast public got a chance to say a final farewell to the actor.
Crowds applauded outside City Hall as the cortege paused for a few minutes on a slow journey around landmarks close to the star's heart.