Northern Irish pilot recalls attempted hijacking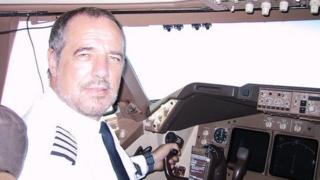 Concern over the fate of missing flight MH370 has brought back memories for one retired pilot, who had to wrestle a would-be hijacker on a packed aircraft.
Bill Hagan, who had almost 400 passengers on board, said a man came into the cockpit and tried to grab the controls in a bid to crash the plane.
It happened on a British Airways flight from the UK to Kenya in December 2000.
Mr Hagan, who is from Northern Ireland, restrained the man as a co-pilot tried to recover the plane from a steep dive.
"I'd been fighting this guy for about two minutes. When I say fighting him, most of it was about trying to retrieve him off the controls," Mr Hagan told BBC Radio Ulster's Talkback programme.
"Initially, I'd hit him round the head a few times, it did nothing, grabbed his jacket, it was slippery so that achieved nothing. I put my hands underneath his armpits and then proceeded to lift him, vertically.
"Unpredicted by myself, he then pulled the controls straight to his chest again," Mr Hagan said.
'Very scary experience'
The former pilot said that during the struggle, the aircraft went into a steep dive that lasted about 30 seconds.
"It was 30,000 ft a minute, so we lost somewhere approaching 15,000 ft at that time," he recalled.
Mr Hagan said it was a "very scary" experience for his passengers because the aircraft kept stalling.
"A stall is probably, in many ways, much more frightening than a steep dive."
Mr Hagan, from Newcastle, County Down, said his own wife and children were among the passengers on the flight from London to Nairobi.
Also on board were singer Bryan Ferry, Lady Annabel Goldsmith and the socialite Jemima Khan.
He believes the cockpit intruder was trying to kill himself and everyone on board the aircraft.
"This was pre-September 11, and obviously it was the year 2000, and there was no locked cockpit door policy at that time."
"So in a way, on an overnight flight, virtually any passenger who felt like doing so, would have a chance of gaining access to the cockpit if the cabin crew didn't stop him."
Flashbacks
The British Airways flight landed safely and the intruder was detained by Kenyan police, who treated it as an air rage attack.
Mr Hagan, who plays down the incident, said he did experience flashbacks for a number of years but does not suffer from them any more.
But he said that as well the recent media reports on flight MH370, his own experience of an attempted hijacking has influenced his thoughts on the fate of the missing aircraft.
"I'm slightly, perhaps, predisposed to the risks of a cockpit intrusion. I'm not saying that's what did happen, but it is a possibility, at around the time when the aircraft deviated from the normal flight path," he said.
"So obviously, there has been intent of some kind, I gather, from the media and from the evidence that's emerging - the small amount of evidence.
"Who's been responsible for that, obviously I've got no idea.
"It looks as if it may be that it has come down in that point west of Australia".
Asked if the missing flight could have flown on for hours on autopilot, Mr Hagan said: "Total incapacitation is, albeit a very remote possibility, but there is a possibility yes, as we all know from one or two previous experiences.
"If that were the case, then obviously if the autopilot were engaged, the aircraft would fly on its previous or on the last instruction it received, whether that's a heading or a route, until it ran out of fuel.
"Then, it's difficult to know what precisely would happen, because the engines are producing electricity, the generators produce electricity to the autopilot, and the autopilot is trying to maintain the height of the aircraft.
"But as the engines run down and run out of fuel, the autopilot, until it cuts out, would still be trying to maintain height and chances are that that the aircraft would stall.
"A stall is extremely dangerous in a big aircraft like that."
Mr Hagan was rewarded for his bravery in tackling the cockpit intruder when he received a medal at the British Gold Heroes Awards in March 2001.