Smithwick Tribunal 'should have had garda phone tapes'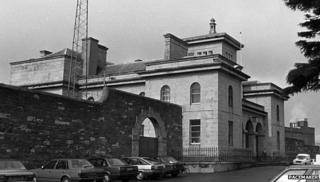 A tribunal that found Irish police colluded in the 1989 murders of two senior NI policemen should have been told police stations were recording phone calls, a solicitor has said.
The Smithwick Inquiry found there was Irish police collusion in the murders.
Irish Prime Minister Enda Kenny said he was concerned that revelations about phone recordings may have implications for both court cases and tribunals.
Solicitor John McBurney said details about calls would have been useful.
"Judge Smithwick, his legal team and administrative staff had been pressing for full disclosure of all possible records that could touch upon the issues he was looking at," said Mr McBurney, who represented the family of Ch Supt Harry Breen at the tribunal.
"He was trying find to basic things such as itemised phone bills and records of phone calls in and out of Dundalk Police Station, but wasn't even able to obtain those.
'Relevant material'
"This was at a time when the authorities seem to have at least 2,500 tape recordings of calls between stations, and if the divisional headquarters at Drogheda station was having its conversations taped with Dundalk, Monaghan and Dublin, those tapes would undoubtedly have been relevant to the tribunal - none of it was identified or produced.
"In November, the process seems to have stopped after perhaps 30 years - none of this was communicated to the tribunal or produced in evidence, and it stopped almost coincidentally when the report of Judge Smithwick came out."
Mr McBurney told BBC Radio Ulster's Talkback programme that while the contents of the tapes were not known, "if there is any material that would have been relevant it should have been produced to the tribunal".
The Irish government launched an investigation into the secret police recordings on Tuesday. Just hours earlier police commissioner Martin Callinan had resigned.
Mr Kenny confirmed on Thursday that the revelations had led to the first adjournment of a trial before the criminal courts.
Two men accused of IRA membership had their trial adjourned on Wednesday.
The Smithwick Tribunal was set up by the Irish government in 2005 to investigate claims that officers based in Dundalk station had assisted the IRA gang who ambushed the two officers on 20 March 1989.
Ch Supt Harry Breen and Supt Bob Buchanan were shot dead in an IRA ambush in March 1989 in south Armagh. The attack happened as they crossed the border into Northern Ireland after a meeting in Dundalk Garda (police) station.