Fivemiletown Creamery in exclusive talks with Glanbia co-op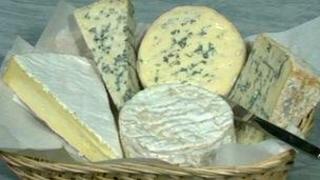 A County Tyrone creamery has entered into talks with an Irish food company in an effort to save 50 jobs.
Fivemiletown Creamery, an independent specialist cheese-making factory operating since 1898, is threatened with closure.
The company has entered into talks with Glanbia co-op, in an effort to secure the creamery's future.
Fivemiletown's 39 shareholders are expected to meet about the future of the creamery on Thursday.
Alliance
The Ballylurgan Road premises are up for sale following downturn caused by the loss of a major contract and difficulties in acquiring milk.
It is also understood the creamery has been making large losses over the past two years.
A spokesperson for Fivemiletown Creamery said the company had experienced difficult trading conditions in recent years that had "significantly impacted on the financial viability of the business".
The company have now entered into talks with major Irish dairy company Glanbia Ingredients Ireland over a possible "strategic alliance".
This would see Fivemiletown enter into consultations with its employees regarding the future of its cheese facility and also agree to supply milk to Glanbia Ingredients Ireland.
As part of the deal, the Glanbia co-op will have an exclusive licence over most of Fivemiletown's retail cheese brands.
A spokesperson for Glanbia Ingredients Ireland said: "Both parties see considerable value in establishing a long-term, mutually beneficial alliance."
Massive blow
The SDLP's Joe Byrne said the business had been under financial strain, having lost a major contract 18 months ago.
He said: "I think it is vital that Fivemiletown Creamery survives and provides a service to the dairy farmers of the Clougher Valley area and is a vital cog in the agri-food sector."
DUP councillor Wills Robinson said: "The prospect that 50 jobs could go in Fivemiletown is deeply concerning.
"The creamery has been a long-term employer in the town and the idea that it would be closed would be a massive blow for the town but especially for those employed in it."